Poole Enterprises & Fencing Pty Ltd stock a large range of Elgate / Downee fence fittings, hinges, & latches.
If you are building a new chainwire fence, a new shadehouse, or any type of pipe framework, then Poole Enterprises will have the right fitting for the job, in stock ready to go.
If you are after something a little less common, just ask about availability, as most fittings can be shipped in within 1 – 2 days if it is not a stock item.
For a full listing of the fittings that are available, please download the product guide below. To download, just right click and choose 'Save target as...'

T Fittings
Available in the following sizes:
T1515
T2015
T2020
T2025
T2520
T2525
T2532
T2540
T3225
T3232
T3240
T3250
T4025
T4032
T4040
T4050
T5025
T5032
T5040
T5050
T6550
T8025
T8032
T8040
T8050
T10032

Cross Fittings
Available in the following sizes:
X1515
X2020
X2025
X2525
X2532
X2540
X2550
X3232
X3240
X3250
X4040
X4050
X5050
X5065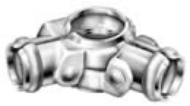 Adjustable Corner
Available in the following sizes:
AC2525
AC2532
AC2540
AC2550
AC3232
AC3240
AC3250
AC4040
AC4050
AC5050

Gate Hinge
Available in the following sizes:
GH2020
GH2520
GH2525
GH3220
GH3225
GH4020
GH5020
TH4025
TH4032
TH5025
TH5032
TH6525
TH6532
SH8025
SH8032
SH8040
SH10025
SH10032
SH10040
Copyright - Poole Enterprises & Fencing Pty Ltd 2017