Poole Enterprises & Fencing Pty Ltd design & fabricate custom made sliding gates in house, to suit most driveways from 3000mm wide up to 7500mm wide.
All sliding gates are designed & built to be run on a surface mounted aluminium track, using heavy duty wheels with sealed bearings that are recessed into the sliding gate's bottom frame.
Our sliding gates are fitted with a nylon guide block that attaches to an aluminium channel on the gate, which supports the gate vertically as it opens & closes. The benefits of a nylon guide block allows the gate to rise and fall as it operates, if the ground is not 100% level, perfect if your existing driveway has become un-even due to ground movement, or if your ground changes angle at any point in the area where your sliding gate will be operating.
All sliding gate systems are installed with a gate stop at the opening end of the track, which stops the gate from going past the rollers or guide block at the end of the opening phase, helping to eliminate the possibility of the gate coming out of it's guides.
At the closing end of the gate, the gate post is fitted with a gate locator that the gate closes into. A pin is usually welded to the end of the gate frame which fits through a pre-drilled hole in the locator. This stops the gate from moving/swaying once the gate has closed. It also allows for a padlock to be fitted to the gate if you want to permanently lock your gate if you are away from your premises, mainly used for manually operated gates, as the electric gate motor normally locks the gate shut if gate is automated.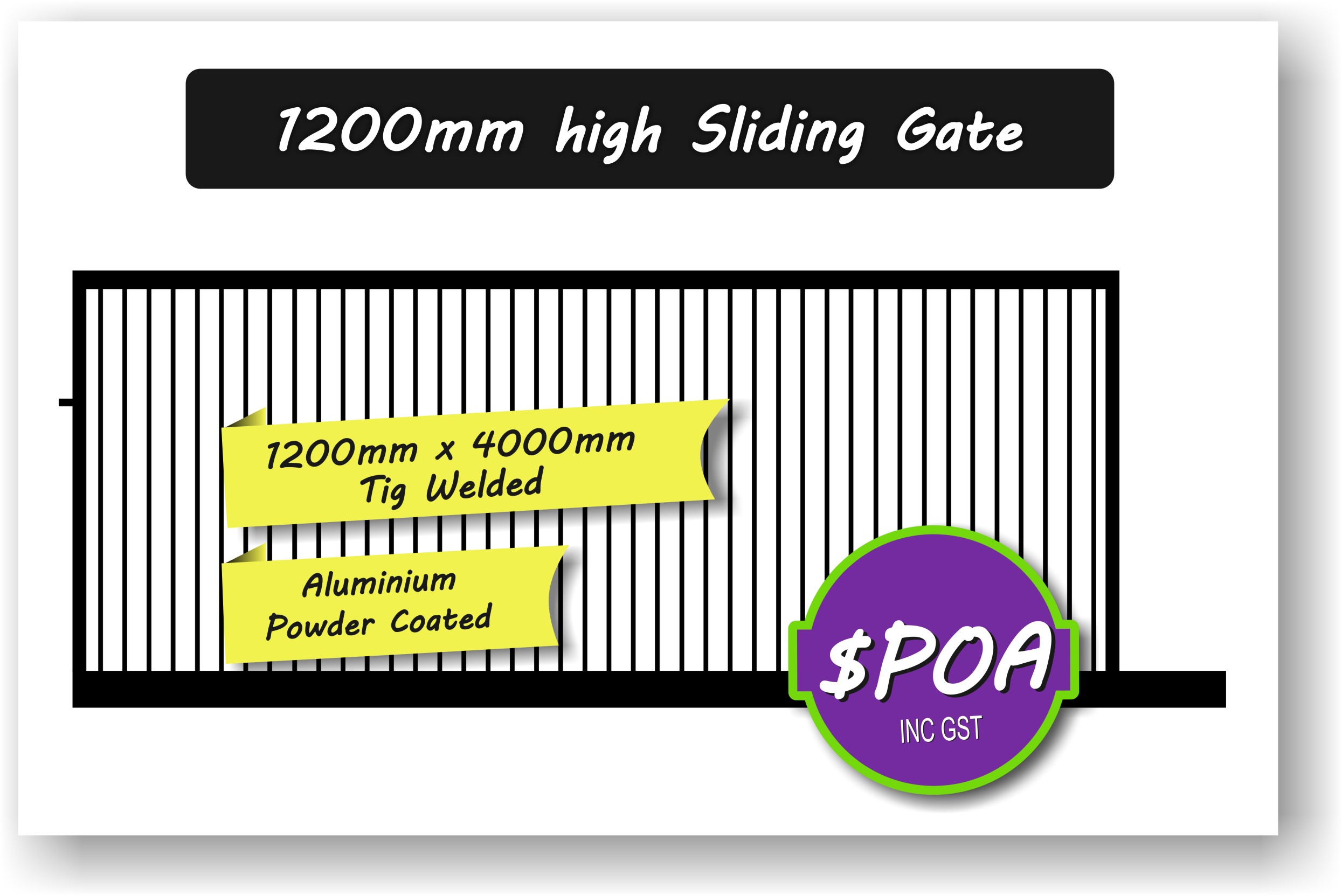 Product: 1200mm high Flat Top Aluminium Sliding Gate
Description: 1200mm high x 4000mm wide, 100mm x 50mm base frame, 50mm x 50mm outer frame, 16mm vertical tube, all TIG welded & powder coated in most standard Colorbond colours.
Price: $POA inc GST
Available Colours: 'Satin Black' or any standard Colorbond colour
Copyright - Poole Enterprises & Fencing Pty Ltd 2017